Leading The Way In Automatic Door Technology
Tormax iMotion® 1301 Swing Door Operator: a culmination of intelligent design, eco-sensitivity, modularity, reliability and economical efficiency. Surpassing the competitors, Tormax has designed an eco-friendly, electro-mechanical operator that employs advanced technology. The iMotion® 1301 is self-governing, self-adjusting and offers unmeasured functionality.

The iMotion ® 1301 Swing Door Operator is the most advanced swing door operator on the market today. The iMotion® 1301 is a non-handed power open spring close swing door operator which represents the best swing door technology, designed specifically to operate on a broad variety of swing door applications.

The elevated design can be used in any structure and provides not only pragmatic value, but also artistic value, equating to a convenient, comfortable, and safe swing door operator.

The iMotion ® 1301 Swing Door Operator is designed for a wide variety of market specific applications in new construction, remodel, and retrofit applications. The overhead lintel mounted
low maintenance operator can be used with single door leafs or pairs of doors with butt/offset or center pivoted hinges, swinging either out or in without panic breakaway.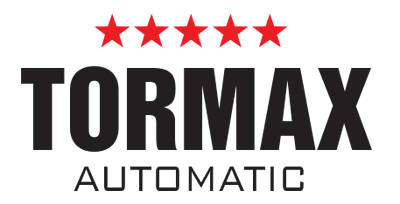 Outstanding Functionality
The iMotion® 1301 Swing Door Operator incorporates software features including "Push and Pull" activation by lightly pushing or pulling the door. The operator can be programmed to compensate for wind load and stack pressure to ensure that the door opens and closes properly in every instance.

The door opening speed, opening angle and hold open time can be easily programmed depending on the needs of the customer. This is accomplished conveniently without any cumbersome adjustments; by simply walking the door through the initial door cycle.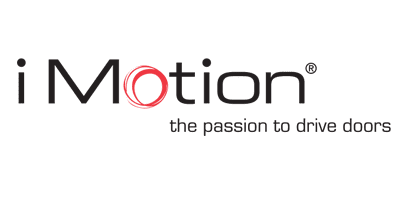 User Friendly Function Control Panel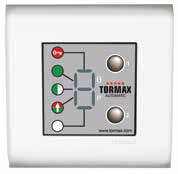 The iMotion® 1301 Swing Door Operator offers a user friendly Illuminated Seven-Segmented Function Control panel, which boasts Six-Operating Mode Capabilities and convenient programming options, such as variable opening and closing speeds, opening and closing force, hold open times, and many more. This smart technology provides easy personalized programming, exceptional safety and monitoring features.
First Class with Universal iMotion® Processor

Registration of the door position back to the controller is determined via non-mechanical electronic encoder. Signals from the electronic encoder define door position without the use of position magnets or mechanical switches.
The Tormax 1301 operator is the only operator on the market using an AC synchronous motor. It's the same type of motor that allows ceiling fans to run for millions and millions of cycles because it relies on magnets versus the brushes used by typical DC motors.
This AC Motor is not just extremely durable; it is exceptionally quiet and powerful. At 1/3hp, it moves extremely heavy doors, but more importantly it will accurately control the speed of those doors for ideal performance and safety.
Tormax iMotion® 1301 Swing Door Operator – Side Load Design
Dual Purpose Operator – Meets or Exceeds ANSI Standard A156.10 and A156.19
Power Open Spring Close – Functions as a Manual Door Closer With Loss of Power
Transmission consists of a Heavy Duty Rack and Pinion w/Dual Compressions Springs and a Re-Circulating Ball Screw – Provides for Maximum Door Control in Extreme Environments (no gears to wear or leaking oil)
AC Synchronous 1/3 HP Motor With Built-In Motor Protection Circuit – Wear Free Drive Principle
Smooth and Silent Operation (less than 70 DB) – Unlimited Application Opportunities
Adjustable Closing Spring Force – Allows Doors to be Fine-Tuned to the Environment
Unique Conical/Hexagonal Shaped Stainless Steel Output Shaft – Eliminates Door Arm Slippage
Rated for Interior and Exterior Doors up to 48″ Wide (1219) x 550 Lbs. (250 KG)
Factory Assembled, Tested and Shipped as a Complete Unit
Models Available to Automate Single, Simultaneous Pair and Double Egress Applications
Telescoping Outswing Door Arm Will Accommodate Door Reveal Ranging From 0"-9 7/8" (0-251)
Inswing Door Arm and Slide Track – For Use With Butt Hung, Offset Pivot Doors
Side Load Design (SL) – For Convenient Operator Access
Durable Steel End Plates – For Structural Integrity
Compact Visible Side Load Design – Header Profile 4 9/16" H x 5 9/16" W x 31 1/2″ L (116 H x 141 W x 800 L)
Optional Full Door Width Header Profile Available – Provides Uniform Sightlines
Outswing Door Opening Angle – Adjustable (0-110 degrees)
Internal Adjustable Operator End Stop in Opening Direction – No External Door Stop Required
Three Operating Modes (On/Off/Hold Open) – Pre-Wired Switch as Standard With Each Unit
Optional Illuminated Function Control Panel – Provides for Operating Modes, System Configuration and Auto-Diagnostics
Universal iMotion® Microprocessor Controller – One Common Controller for All iMotion® Drives
Programmable iMotion® Microprocessor Controller – Provides Flexibility During System Configuration
Electronic Reversing for Door Obstruction in the Opening Direction – Door Will Stop and Reverse Close
Electronic Reversing for Door Obstruction in the Closing Direction – Door Will Stop and Reverse Open
Motor Power Boost Close – Ensures Doors Close in Harsh and Windy Environments
Motor Hold Close – Assists in Holding Doors Closed in Unbalanced Buildings
Power Open and Hold – Provides for Smoke Evacuation Application – Programmable
Selectable (on/off) "Push and Pull" Activation – Programmable
"Teach-In" Self-Learning Door Commissioning Program – Establishes Door Opening and Closing Movements Without the Use of Cams and Switches
No Mechanical Switches and/or Cams Required for Door Position – Eliminates Costly Service and Down Time
Independently Fine-Tune Door Motion Elements (door opening and closing speeds, opening angle and hold open time 0-60s) Independently after "Teach-In" – Programmable
Adjustable Latch Check Positioning – Programmable
Adjustable Latch Check Speed – Programmable
Adjustable Opening Force Limitation – Programmable
Adjustable Opening and Closing Speeds – Programmable
Adjustable Opening Angle – Programmable
Adjustable Hold Open Time for Door Activator – Programmable
Sequential Operation (push to open/push to close) – Programmable
On-Board Power Supply Output With Overload Protection (24VDC .75A max.) as Standard for Activation and Safety Sensors – No Auxiliary Transformer Required
On-Board Lock Output Power Supply (24VDC 1A max.) for Electric Strike (fail-safe or fail-secure) as Standard With (.2-4S) Delay – Programmable
Two On-Board Outputs (24VDC) for Door Position Status, Alarm, etc. – Programmable
Four On-Board Inputs for Safety – Programmable
Self-Configuring Swing Side Door Mounted Safety Sensors – No Cut Off Switch or Manual Adjustment Required
Four On-Board Inputs for Activators, Mode of Operation, Key Switch – Programmable
Optional I/O Module – Provides Four Additional Inputs and Four Additional Outputs
Built-In Safety Circuit With Stall Logic – No Auxiliary Modules Required
Optional Accessories Available – Door Sequencing, Interlocking and Battery Back-up Modules Available
Available w/ a Full Range of Operate Sensors, Manual Controls, Door Mounted Safety Sensors and Overhead Mounted Presence Sensors – ANSI Compliant
Standard Architectural Class 1 Anodized Finishes Clear and Dark Bronze – Other Anodized Finishes, Painting and Metal Cladding Available Upon Request
Power Consumption Max 250 Watts
ANSI/UL 325 & 228 Listed – United States and Canada
With over 100 years in business, countless customers have put their trust in our security solutions, installations and doors .
How about you?